<My Role>
I project managed the full product development cycle of this hand-held augmented reality (AR) education app from research, design, prototyping, software development, and testing.
​
<Achievements>
​
<Project Background>
The AR mobile app was designed to o help autistic children identify abstract concepts in real life in order to help them overcome their social and linguistic challenges.
*Below is a summary of the full product development cycle I project managed.
​
​
Step 1: Identify "The Problem & Target Audience"
Step 2: Ideation
<Concept>
Players navigate their space and search for shapes with an iPad and augmented reality (AR) technology identifies shapes and displays them on the screen. For typical learners, this technology can be used as an assessment tool to check for understanding. However, for autistic learners, it is a tool that bridges abstract concepts to reality. It fills in the current gap in traditional learning methods, and increase students' motivations to learn and stay motivated.
Why Shapes?
Shape recognition is a fundamental skill that leads to recognizing letters and words. It is an essential skill that transfers to literacy skills.
<Technology>
Shape recognition technology coded from Open CV was implemented into the app design.
Step 3: Wireframing
<Preliminary Hand-Drawn>
Step 4: Prototype Development
Developed prototypes were tested at a partner special education school in New York.
​
Summary:
Students were able to use AR technology (USABILITY),

Students stayed engaged on the iPad (ENGAGEMENT), and

Students were motivated to continue playing (REPLAY).

Teachers thought it would be a useful tool that makes learning more relevant to students.
​Improvement Points
Teachers wanted more instruction on how they can implement it into their lesson plan.

Teachers wanted more options to customize experience to fit the different needs of students.
​
<Prototype 1>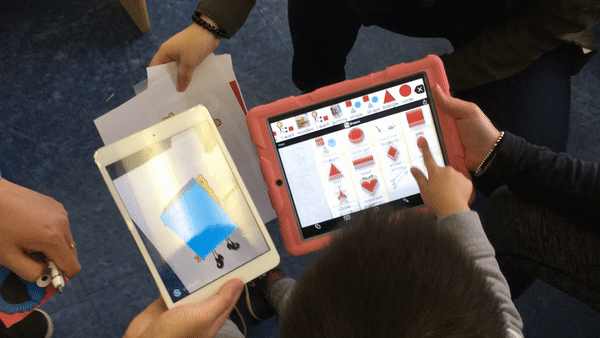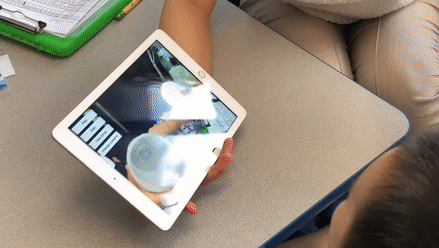 Media Coverage
This prototype was featured on TED Talk (2018).